Welcome to our series of interviews where we are talking to HMO and shared living professionals on their journey in the property business.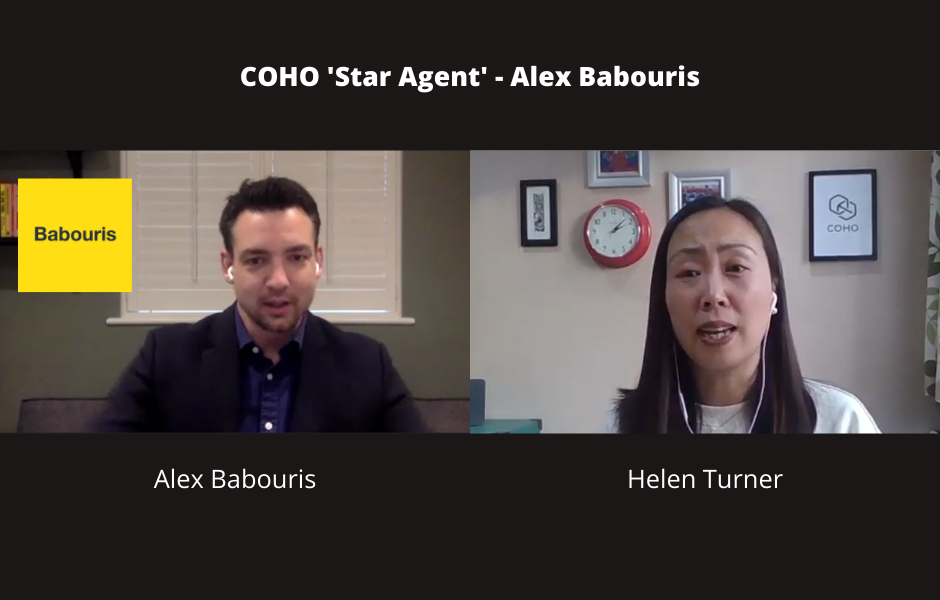 In this interview, we begin the series with our special guest Alex Babouris, the owner of Babouris Cambridge Lettings, a unique letting agency. They seek to prioritize the customer experience and make house-sharing better for everyone. Their team finds great tenants fast, collects and pro cesses rents efficiently, maintains properties to the highest standards, takes care of compliance, and much more — leaving landlords free to focus on what matters to them most.
Helen Turner: So, Alex tell us a little bit about yourself and how you started your journey in property business?
I started in the property market when I was 20, I saved up some money from a couple of jobs, to put down a deposit for a one-bedroom flat. We then converted that to a two-bedroom flat and completely renovated it to raise the capital value, refinanced that and used that money to buy property two, and it snowballed from there.
HT: I understand you had first-hand experience as an landlord. Were they HMOs to start with?
AB: So, the initial two properties were both single lets and always intended to be single lets. At the time, I didn't know anything else existed, to be honest. I just assumed you buy a property and you rent it to a professional or a family. But, after a couple of years, when it was time to buy property number three, with a focus being on passive income, I started to explore the HMO strategy and bought a property to renovate into an HMO.
HT: Tell us a little bit more about your letting agency. Is it a specialist HMO agency or more like traditional?
AB: No, I don't think so, although we do the traditional tenant find and Property Management Services, specifically for HMOs. We also offer rent guarantees, also called the Rent to Rent model. We also support in terms of buying, refurbishing, and getting your property ready for tenants. And also, if you have a single let property and you want to convert it into an HMO, we can help you with our expertise, and people that we know can help you through the journey.
HT: What kind of customers do you attract for your HMO business?
AB: I would say we serve landlords across the spectrum. Recently we had a lady who has been a landlord for about 20 years and has six HMOs in North Cambridge.
She found the burden of managing those herself pretty draining. There were a couple of legacy issues with the properties and also with some difficult tenants. So, we took her on board and helped her. We have taken the management of those properties, helped get the rent arrears, fully up to date, replace tenancies that were needed, and any repair issues that needed to be done. So that was an experienced landlord.
But then we also got a young man, Sam, who is a property developer, who came to us for support with his first HMO and first property purchase. So, we helped identify Sawston as a potential area in Cambridge that offers good values.
HT: What other activities do you take care of for your clients? And how do you manage your relationship with tenants?
AB: We take care of a lot of things for our clients. We've got our media team going to the properties to film them, and we do that as part of our marketing approach. I think part of that is wanting to be very transparent, so the tenants can see us. They can come into the office at any time to come and meet us. As well as this on social media and YouTube they can see us in our natural environment during our day-to-day lettings bits, and it helps build that trust and familiarity with the tenant, but more so for landlords as well, that they can see that we are one of the good guys.
HT: How did you go about solving the rent arrears problem during the pandemic? Was that a common hurdle?
AB: I mean, we're quite lucky that we just had a few isolated incidents where the rent arrears were quite systemic, like I said, the landlord mentioned earlier had six properties. And in each one of those, they had one or two tenants who were not paying rent, some were refusing to pay, others were in genuine difficulty. We took a collaborative approach with them. We didn't want to get contractual and track them through the legal process. So, if it's simply unaffordable, we would be able to move them into another property that we manage, or offer them external support, with the council, for example, help them access Universal Credit, where needed. We've done all of that free of charge, and that helped the majority of people bring their rent arrears up to date. And then you do get the odd rogue tenant, and the approach was slightly different. But the result was the same there.
HT: What was the thinking behind the branding for your HMO business?
AB: I think for us, it was a sort of visual representation of our reputation without sounding too pretentious. We wanted to make it very easily understood. And Cambridge being a small market, we wanted to make a big impact as quickly as possible, and let people know that we're here. And one of the easiest ways to do that is through branding which is a personal passion of mine. We also place a lot of emphasis on a customer-centric approach.
HT: How did you apply this customer-centric approach to your HMO tenants?
AB: Just as I mentioned above that the rent arrears had to be sorted and we worked collaboratively with the tenants. In terms of the customer-centric approach, I think we're just not a typical agent, we don't sit behind desks, and you have to come into the office. We can come to you, it's a lot clearer on social media, it's a lot more friendly. But if I may talk about Coho one of the reasons we use Coho as our property management platform, is because of the social aspect that I thought shone through with Coho. So, tenants before they come and view property, you can have an overview of the tenant types in each property, see what their preferences are, what their interests are, and see if that's a good fit for them before they even walk through the door.
HT: How realistic is it to get a selection of people together that are more likely to be well-matched in an HMO?
AB: It is a huge challenge, you've got six individuals who come from different backgrounds different, in different stages of life, students or professionals. So, we try very hard to consolidate and keep tenant types quite consistent. So, student houses, professional houses are easy. We take into consideration age ranges and keep a good mix of genders in each property. And again, as I said, understanding the tenant's interests, and what they're looking for in a house share helps us naturally place people where they feel most comfortable.
HT: When did you say you started the agency?
AB: I think we formed a private limited company about 18 months ago.
HT: That's not very long at all and how did the landlords handle the pandemic?
AB: A lot of the landlords that we were speaking to initially, were in distress. I suppose they weren't quite sure what was going to happen. One landlord sticks in mind, he has a portfolio of a dozen properties in Cambridge, and he had sort of systemic voids across his portfolio and struggled for ideas and what to expect. And I think us being a new company and much hungrier. We could adapt quicker. And again, our customer-focused social approach made it much more successful. Because we could replace tenants and fill rooms pretty quickly.
HT: At what point did you realize that you need to get a software system for your property business?
AB: Almost immediately, as I started I thought about systems. And I know that from experience with having a small portfolio myself, once you get to a certain number of units, it's almost impossible to manage properly, via spreadsheets, WhatsApp, and so on. And given our ambition is to scale and grow a lot more than we are currently, it was important to me to get systems in place early.
HT: You got Liam on board as your customer experience manager. How have things changed with him on board?
AB: Yeah, he came on board, we were already on Coho, and he focuses predominantly on the tenants. There's a lot more interaction between tenants and Liam. It's been great that he's been able to have a consolidated platform to communicate with tenants on everything. So, it was very easy with Coho to message, the whole house in one message. But then also repairs and maintenance issues. All of those little bits, rent collections deposit management, and when it's very easy to use it's icing on the cake.
HT: How do you manage your workload?
AB: It's a constant challenge. I think the admin is a massive part especially with HMOs its paramount and it does take up a big chunk of time. Tenants find is something that we manage quite efficiently. I think we've got quite a good waiting list of tenants that have seen our properties and have expressed an interest in a particular room or property for when it comes available. There's a young lady in Italy that was following us for four months on Instagram before she booked the room she took. She was interested in CB one, but she moved into CB four, which means something to people in Cambridge because she wanted to rent with us, which was amazing.
HT: I was just speaking to somebody today who wanted some advice on running an HMO. He's been a single landlord for a while but hasn't had any experience in running HMOs. What sort of advice would you give him?
AB: So, I mean, right from the start, you mentioned that he's a single landlord that hasn't got experience with HMOs. I'd say the big thing that that I would recommend is to get familiar with the compliance matters of the local authority. HMOs are a completely different beast when it comes to compliance and health and safety and so on. And single lets, so you want to make sure that you're very comfortable with that. And so not only in terms of the initial sort of offering, bringing the property to market, but also the ongoing maintenance and repairs that you would need to be doing.
In terms of lettings, I suppose get familiar with what the local markets offer, the tenant types that you're targeting, their preferences. It's an early stage, so make sure you're designing to that need, as opposed to what you might see on Instagram, or some other places, you know, make sure it's fit for purpose.
HT: I think that's where you differentiate because you can help landlords find tenants but also make it attractive to the tenants that the house is intended for. Is that accurate?
AB: Absolutely, I think because we're in constant contact with the tenants. And we're hearing all about what they like and what they maybe don't like. We are then able to influence the next batch of HMOs that are being developed, and maybe counter-intuitive to say but whether or not they come to us or they self-manage or go to a different agent, it makes me feel good that the properties are fit for purpose and serving the tenants needs. So, if I can help improve that in some way, then that's a win.
HT: We think that if landlords or creating good examples of HMO it will encourage more people to seek them out. I think in certain areas, it might be quite difficult to look for something. So, you might not even bother. What do you think?
AB: I think maybe more up north in the more sort of bigger cities, Manchester, Liverpool, that sort of thing, it's almost a given because the market is so big there, that you have to be a certain standard to win. Whereas some of the smaller sorts of niche markets and where the properties stock isn't quite so readily available, for example, Cambridge, being one of them, is less of a necessity to be pushing the ceiling. But I think in the next sort of 5-10 years, the landlords that are doing that now, they're the ones who are going to win out eventually. And we've already seen in a short period, the last sort of three or so years, the standard of old bedsit type HMOs, to what's coming to market now is massively different.
HT: If you're raising the standards and customer service in HMOs, you're able to charge more rent. Have you got any good examples of those situations?
AB: Yeah we took on two properties on a commercial lease or rent to rent agreement with a landlord who got tired of self-managing. So, there were two six-bedroom semi-detached properties. They were achieving rents at roughly 595 - 600 pounds per room. And occupancy rates were never that great. We went in, and did a complete top-to-toe refurb of the property, all at our cost, we managed to raise the rents to just shy of 800 pounds on average. The occupancy is 100% and we've got a waiting list of people that wish to take them. So the demand is there, it's just, you just need to be offering that.
HT: If there was another sort of letting agency that just started and is interested in moving into HMOs, what would you advise them to do before they make that decision? What challenges should they foresee?
AB: I think we touched on compliance earlier when we mentioned the landlord. So, I mean, compliance is always a big one, for me. Number two, I think, in terms of challenges, if we're being honest, HMOs involve more people, and more people involve more work. So just be very prepared for that. If you're dealing with single houses, you know, typically one or two people you might communicate with HMOs might be 4,5,6,7,8, any number of people, and that has its own set of challenges. If you're not directly experienced in HMOs, I would probably start a bit smaller. So, mini HMOs, three to four, and then sort of getting used to how the dynamics work. And then we mentioned earlier about systems processes use something like Coho to give you another prop. In order to manage the communication and general property management tasks, because very quickly, as you start to scale, you'll get overrun.
HT: I suppose it's not just the landlords that have to keep up the document compliance, you need to dig up those documents and surface those tenants as well as get organized right?
AB: Absolutely. And then evidencing that you've done that, which is another challenge. But again, with Coho one of the things that I like is once you've uploaded things like the gas, safety, and HMO license it doesn't matter how many times that room gets replaced, or any number of rooms in that property get replaced. That's the standard information, which the tenant has to sign to acknowledge that they've seen them and understood. Just that that one feature alone saves a massive amount of time.
Hope you were able to get real insights into Alex's mind. If you have any more question for Alex you can reach out to him on Alex@babouris.co.uk.
If you want us to interview someone specific please feel free to write to us at team@coho.life.