It's important to give new tenants a welcome pack if you want to give great service and build a good relationship with them.
Tenants usually only get one look at a place before moving in, which can seem very different once all the old furniture and possessions have been removed. It's also possible that new residents won't be familiar with the neighbourhood.
It's crucial to get off to a good start. A thoughtfully curated welcome packet is an excellent tool for accomplishing this. Include any paperwork the new person will need for their stay, any information you may have about the area, and any small tokens of thanks you can think of.
A good way to start on the right foot with your new tenants is to establish open lines of communication.
Here's an example of a Tenant Welcome Pack for HMOs
We'd like to thank you for choosing [company name] and let you know that our main goal is to ensure you're safe and comfortable during your stay.
This welcome pack is designed to help you settle in and gives you all the information you need about the property and the area. Please get in touch with us if you are still unsure about anything after reading this guide.
Our contact details are added to the information cards in your COHO tenant portal.
Your tenancy agreement
The tenancy terms are outlined in the agreement you signed. You can get a copy of your Assured Shorthold Tenancy Agreement (AST) anytime by logging in to your COHO tenant account.
The due date and the entire amount of your rent must be well understood. If unsure, please don't hesitate to refer to your AST or contact us.
Your AST specifies late fees for rent payments. If you're having trouble paying your rent, please let us know as soon as possible so we can work something out.
Inventory
We've added an inventory document to your COHO tenant portal that lists the condition of all the furniture and other items. This is to give you an accurate inventory of the property's furnishings before you move in. Let us know if there's anything you'd change or if there are any things that need to match the description.
You'll have seven days from your move-in date to inform us of any problems. If you don't respond within seven days, we'll assume you're happy with how things are.
Housekeeping advice
Every house is different, and it can take time to find out how everything works.
We've included the schedule for the following in the information cards in the COHO tenant portal.
Bin collection days
Cleaner days
You will also get the WiFi codes on the COHO's tenant portal information cards.
We are also including some handy tips to help you get to know the property and how to best take care of it:
Locking doors and theft prevention
We care deeply about your well-being and the protection and security of the home. In the event of a security concern, please get in touch with us as soon as possible, and consider the following:
When you leave the house or go to bed, lock and secure all exterior doors and windows.
Do not leave expensive equipment in the open, especially in plain view.
Please let us know if you plan on being away from the property for an extended time.
Always activate the burglar alarm before leaving the house.
Fire safety
Your new home, like other rental properties, is in complete compliance with fire safety laws. Smoke and carbon monoxide detectors are installed for your protection. However, you'll need to make sure the alarms are operational. Please check with your managing agent if it has already been done. The advice is to check them once a month; thus, it could be useful to schedule a monthly reminder. Also, remember to take these crucial measures to prevent a fire:
Keep Christmas cards and decorations away from heaters, fireplaces, and candles.
Please don't leave candles and open flames unattended.
Turn off appliances when not in use; do not overload extension leads and plug sockets.
Remove the pans from the stove if you need to leave the kitchen.
Please keep tea towels and clothes away from the cooker and the hob.
Clean the oven, hob, and grill frequently; a grease build-up can ignite a fire.
Utility information
If the rent doesn't include bills, you must set up an account for the utilities from the first day of your tenancy. These utility bills could include gas, electricity, council tax, and water.
As the legal occupier of the property, you are liable for paying utility bills. We have taken your gas and electricity meter readings to make it easier. The same information is updated on the information cards in COHO's tenant portal, along with the locations of the meters and stopcocks (in case there are plumbing problems). We include some numbers to call if you have any gas, water, or electricity issues.
Repairs & Maintenance
When you move into a new home, there will inevitably be a few nitpicky repairs that we overlooked. In this scenario, you don't need to worry. COHO has a tenant portal where problems can be reported. If we think your safety or the safety of the property is at risk right away, we will always give you a heads-up before entering the property or letting anyone we authorize to do so.
The tenant portal in COHO has information cards, which include basic instructions for dealing with concerns such as water leaks, water not heating, etc.
Appliance manuals
We are sure all of us have used basic appliances before, but as each one's a little bit different, We will include the manuals in the information card section of COHO's tenant portal. We hope this helps.is helpful if you have trouble using appliances; please get in touch with us via COHO's messaging system through the tenant portal.
Compliance documents
Please include the following compliance documents in your COHO's tenant portal.
HMO License
Gas safety certificate
Energy performance certificate
Deposit protection scheme details
How to rent guide
Prevent damp
When dealing with the common problem of dampness in the home, it's better to take preventative steps than try to fix it. If you're looking for some easy advice, try this:
Keep your home's temperature at or above 12 degrees Celsius on a steady basis during the colder months to reduce the likelihood of dangerous temperature swings.
Always shut the bathroom door while in there, whether for a quick rinse or a long, steamy shower.
To prevent condensation from forming, it is important to allow as much fresh air into the home as possible by opening windows that fog up.
It's not a good idea to hang wet clothes near a radiator or other heat source.
It would be best if you always kept your lids on your pots and pans to prevent steam from filling the entire kitchen.
Your New Home
The details on all the local amenities and where to find them are updated in COHO's tenant portal for you to look at; let us know if you have any questions or if there's anything we still need to include.
Grocery store
Pharmacy
Public transport information
Pubs
Restaurants
Takeaway
Neighbours Information
Community services included
You can also include some welcome surprises for your tenants, supporting the local community and providing a great experience for tenants.
Discounts to the local coffee shops
Vouchers for local takeaways
Pizza Friday nights
Sneak Peak of COHO's Welcome Pack Panel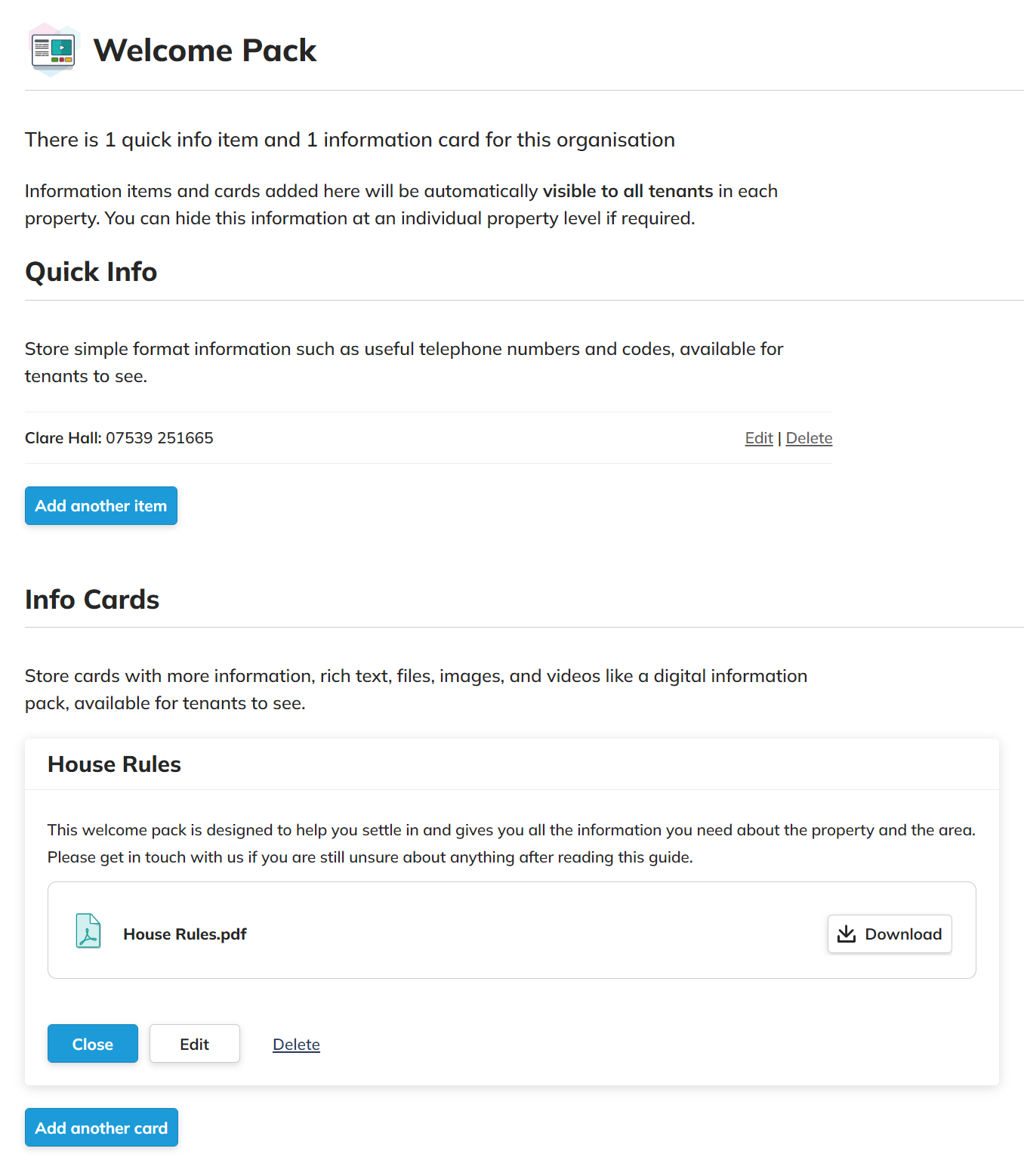 Don't tire yourself out managing your property information in physical documents and spreadsheets. Get onto COHO today?
If you want to know more details about COHO, you can go through the Instant Demo or book a live demo with Clare.