The last couple of months have been intense as we push closer to our full public launch. In this latest version there's not much that hasn't been improved in some way. But there's also so much more to do.
As we've said from the start, the first step is to offer the basics of what needs to be there. We're almost there. The next step is to pull in all the really innovative time-saving ideas that we've had to positively disrupt the whole industry, and help our users rise to the top. That's the part we're most exicted about.
COHO Founders Club
We've always been keen to share our development roadmap, but we decided to go one further and actually let everybody help decide it.
We've set up a new Facebook group so we can get feedback on what features to focus on, and also share what we're working on more frequently.
Viewings
We wanted to get this right... COHO can now be used to manage your viewings across any source you're using. This is what a typical journey looks like:
Log in to COHO, and go to the room you have a vacancy
Click "Invite to viewing" and enter a name, email address, or telephone number
The person will get an email and a text message with a link to arrange it
In the viewing conversation you can propose a date, and they can accept. All rearranging can happen here too, keeping it on one place.
The applicant will be sent a text message to confirm they're still going both 24 hours and 2 hours before. In your viewings list you'll see whether they've confirmed.
After the viewing both you and the applicant will be prompted to give a response to whether the move in should happen or not.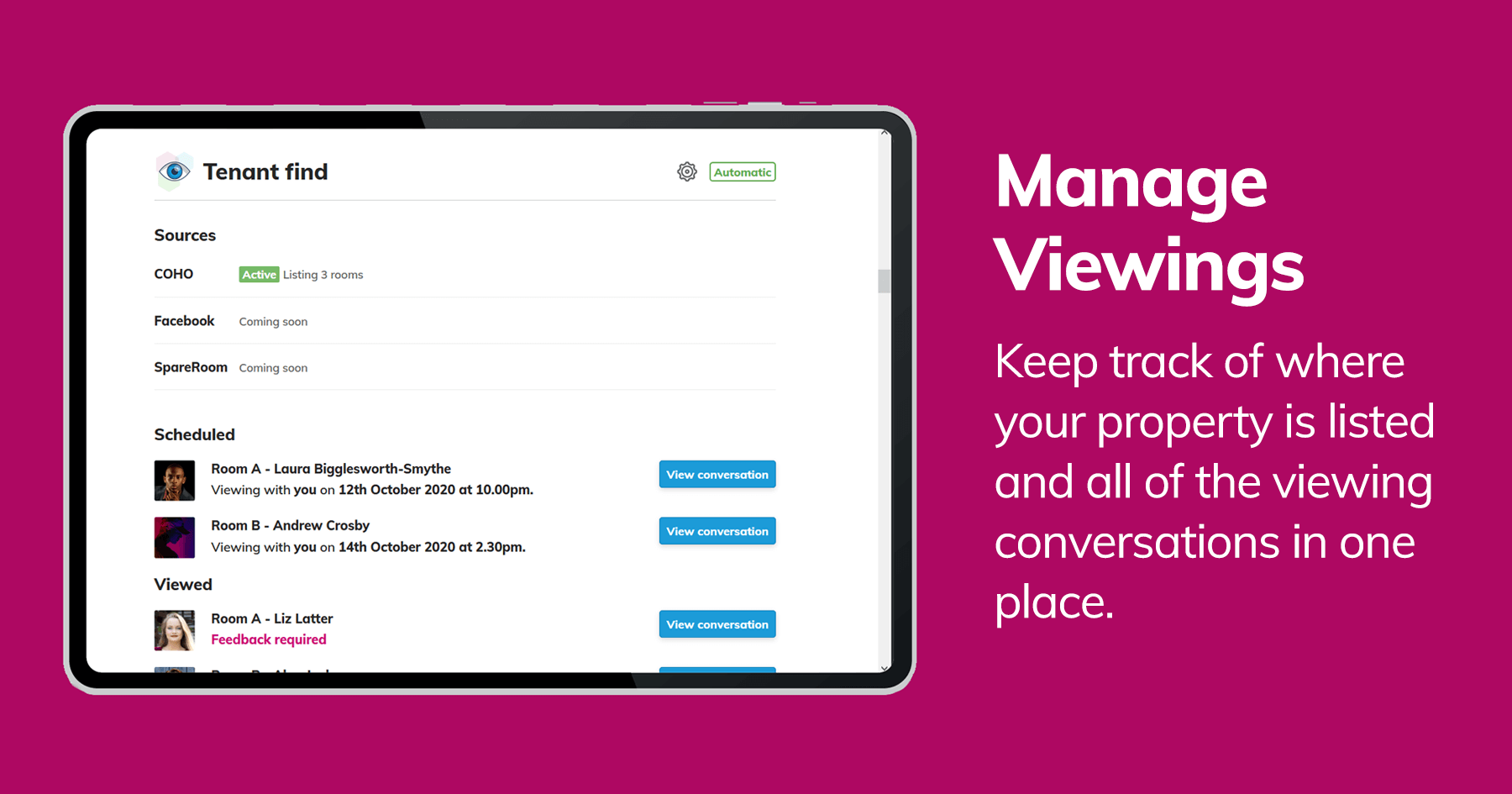 If the viewing is successful you can use the conversation to arrange the next steps (taking pre-tenancy deposit, agreeing terms, etc). Soon we'll be building all this in to COHO too..
Compliancy
We've now added a really clear display of which documents your tenants have confirmed receipt of. Just invite them to a tenancy through COHO and they'll have everything in their portal.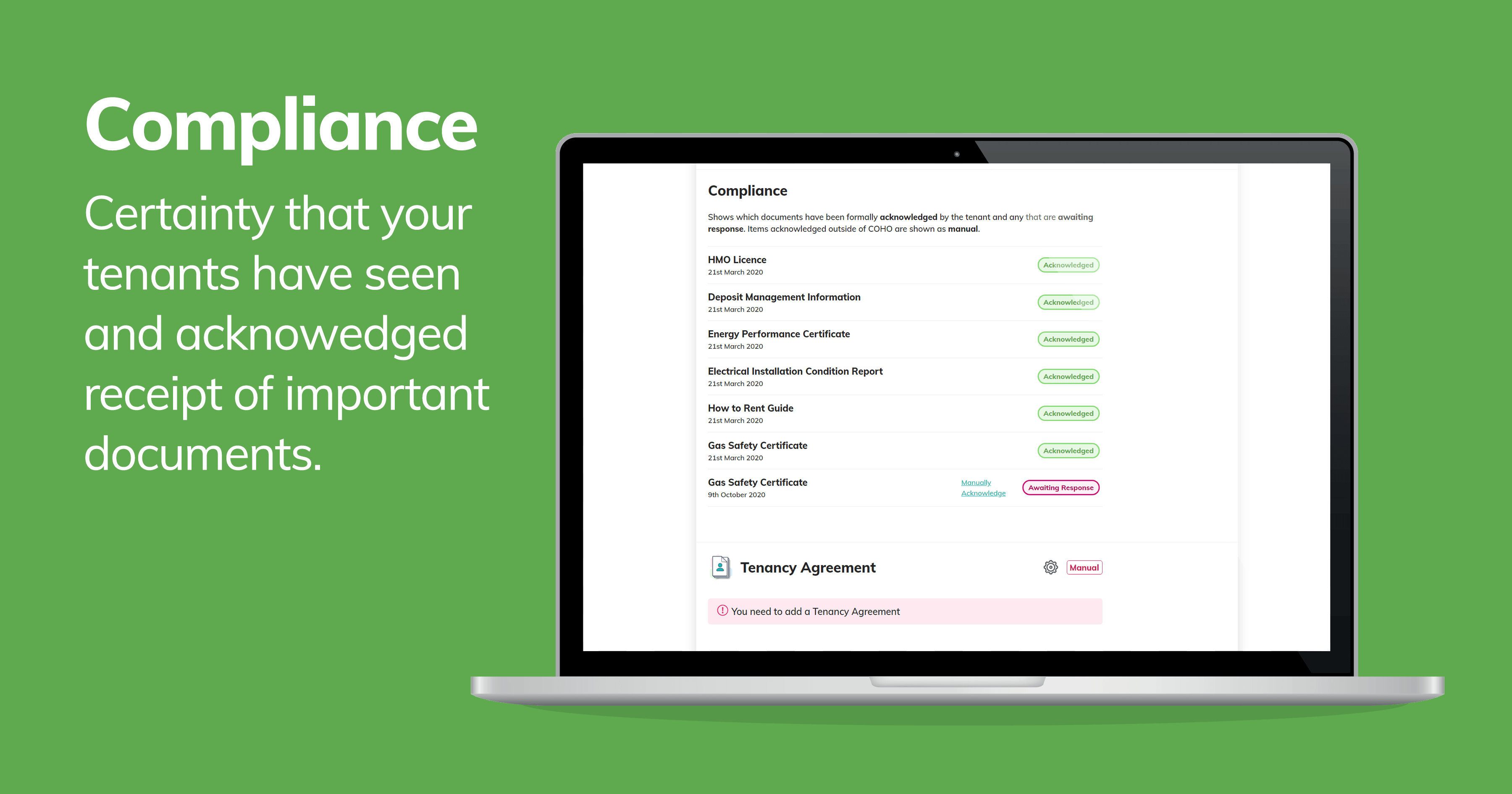 This includes all future documents too. As soon as you upload a new gas safety certificate, you'll have built in tracking for which tenants have acknowledged it.
Repairs
Tired of trying to track maintenance issues in a long WhatsApp group chat, where things can easily be missed?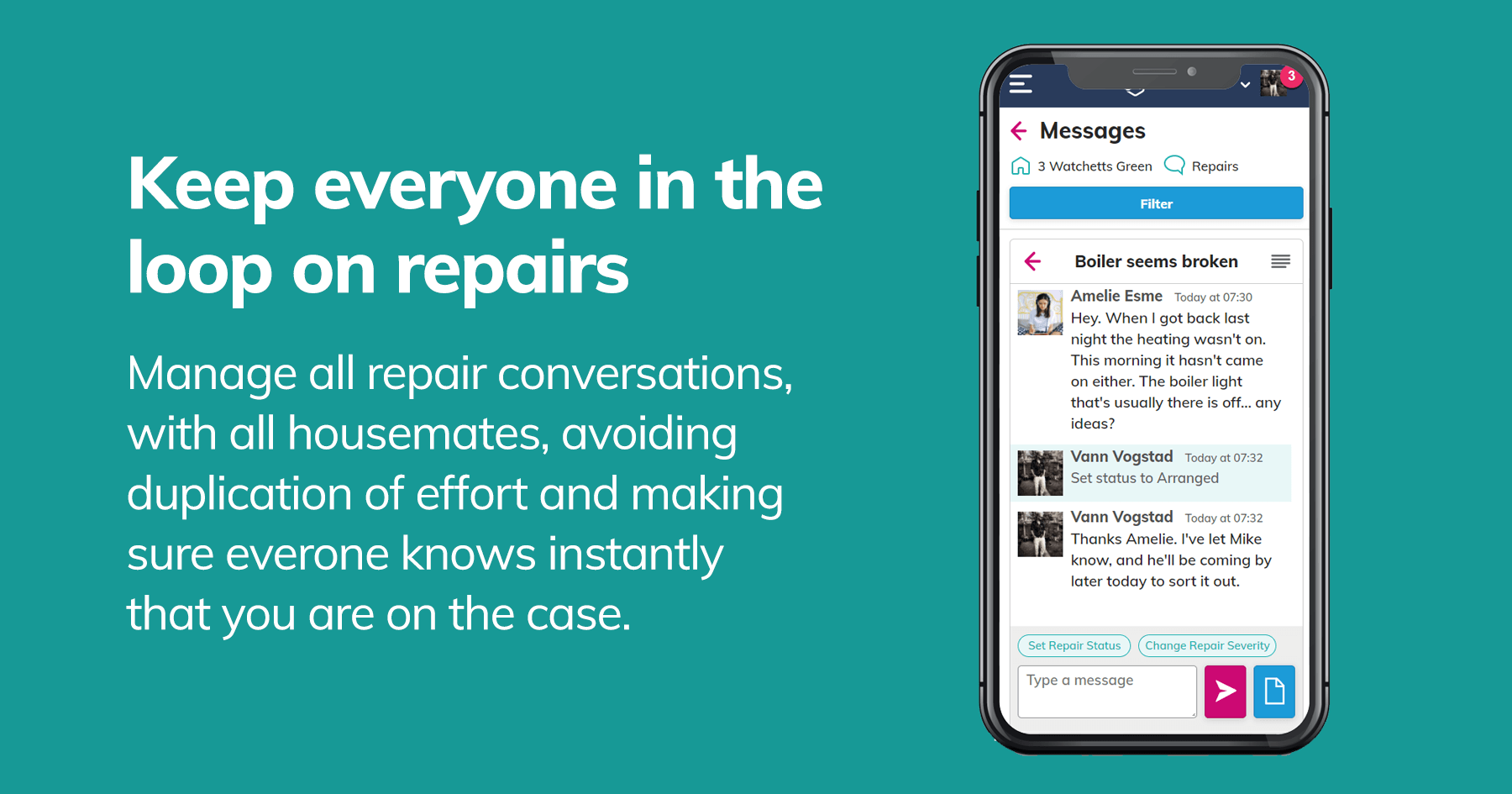 Tenants can report maintainance issues on their mobile without having to download an app, and also keep up to date with the latest status of them.
All conversation and uploaded files related to the issue is kept in a single thread, shared between all housemates.
Managers have visibility of all repair issues over time, and clearly see which are the low priority ones that are outstanding.
The "S****R*** Killer" [Redacted]
We're almost ready to launch COHO's answer to finding a home. You'll now find links for your room profiles visible in the new Tenant Find panel when there is a room availability coming up. We wanted you to be able to see what this looks like, before we put the final touches on and transition COHO into a place to find your next great co-home.
As you can see, we shift the focus away from being only about the location and the rent, and bring in the other hugely important factor - the people you will share the home with. Most of you operators know that a compatible house is a more successful one.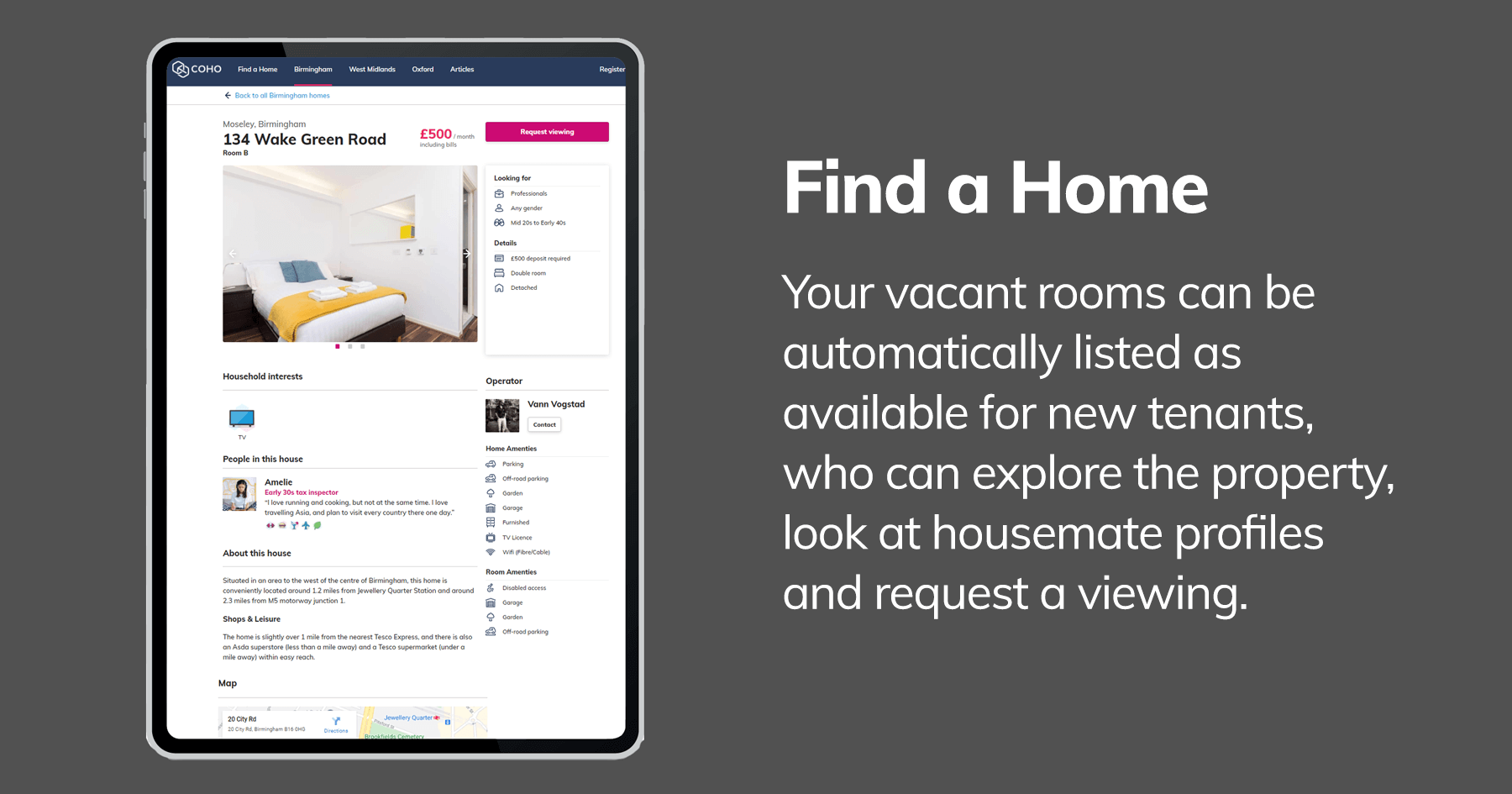 And a load more...
As people involved in property, you probably know the feeling... you go in to fix one thing and come out hours later having fixed 10. That has basically been the past month for us. But here are a few things worth a mention.
Speed Improvements - We've made many of the pages much faster, but we've still got a lot more techniques we can apply to make it run like lightning.
Upload Progress Bars - When uploading big files before it could look like nothing was happening, we've made that much clearer now.
Private Info Panels - Info panels are great for sharing things with tenants, but we realised you want somewhere to store miscellaneous private information too.
Previous Tenancies - Look back over previous tenancies and view payment histories, right to rent, etc.
What's next?
We're hoping a few of you can get in the Facebook group and help us decide. But things coming up soon:
I make no secret of the bits of the app I'm unhappy with... and I really don't like our notification emails. They'll be getting a big overhaul soon to be much more useful.
A mobile app, for the lovely push notifications.
Also "hot off the press", we're also looking to introduce our automated rent collection feature soon. And it's not one of those rubbish "we'll collect your rent for an extortionate amount, hold on to it for a week to accrue some interest, then pass it on to you". It's (hopefully) the rent collection you wish existed.