It's what loads of you have been asking for, and it's finally here!
It has been a long slog, but we've finally finished and ready for you all to try it.
But... What is Onboarding? It's all the hard work you put in on the admin side to take a viewing through to a move in (and according to a load of our users, bouncing between different apps and double-keying in the process). Read on, and I'll share a few key details on how it works.
And if you stick around, and my fingers don't get tired, I'll also share a couple of nice bits we've added, and our awesome next project that's already in development.
Onboarding: At a Glance
Emails, Trello, Excel, "Monday", WhatsApp. There are a number of ways to track progress and communicate with the applicant to get them through this process. But what we wanted to do was to keep it all in one place, where your team and the applicant can see the exact status at any time. And I think we've achieved just that!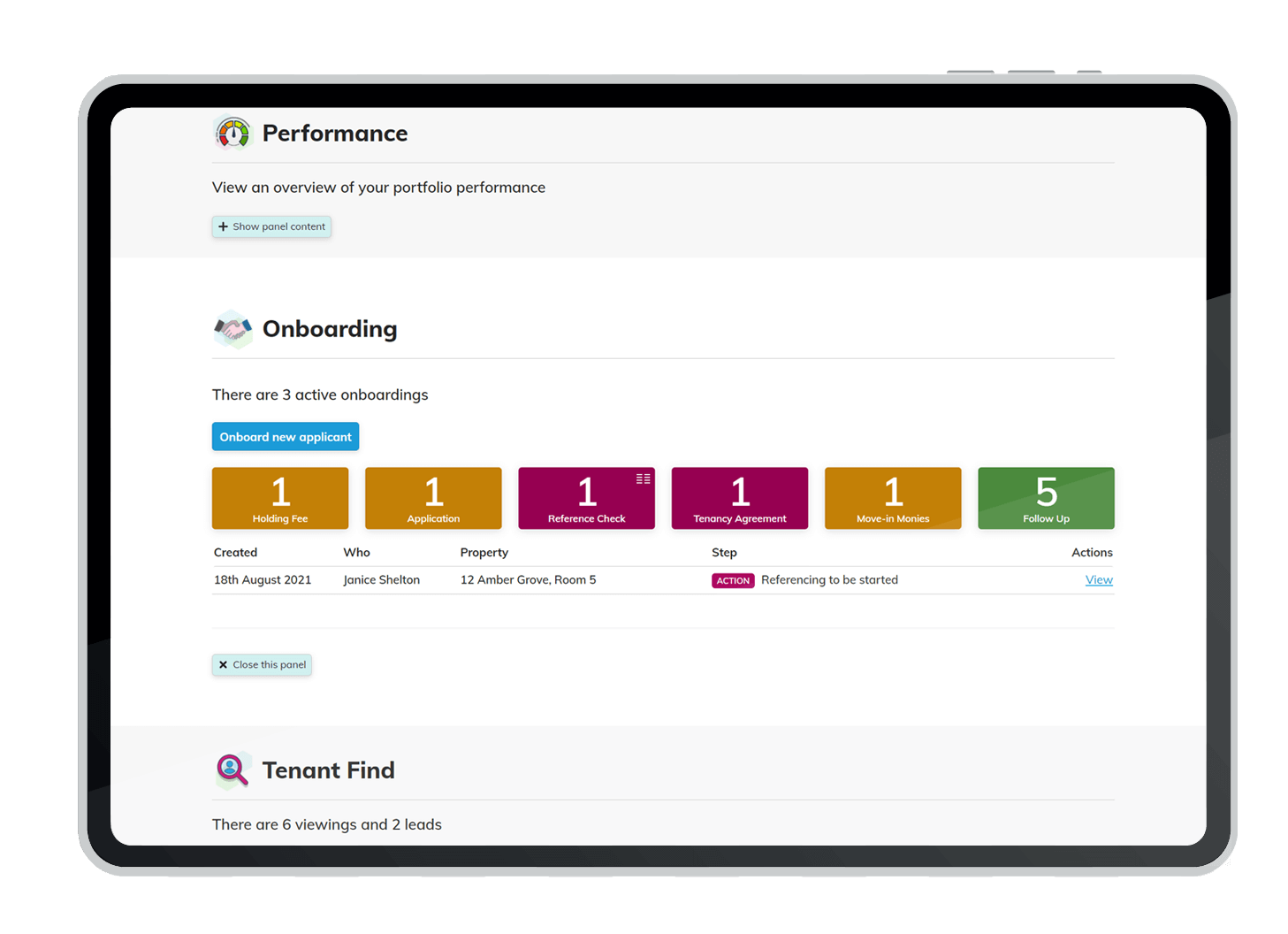 Our onboarding process is flexible enough to work with any organisation, whilst being powerful enough to save you valuable time.
Onboarding in 6 Easy Steps
Onboarding starts by inviting the applicant to a room, setting the overview information (approximate moving dates, rent, guarantor required, etc). You then, together, go through the following steps:
1) Holding Fee (optional)
Let the applicant know how much to pay, and where to pay. They'll be instructed to make payment, and you'll be alerted when they confirm it is done. Once you see the payment in your account, click a button to progress on.
2) Application Form (optional)
Easily create an application form for the applicant (and save for future ones). Not only will this pick up the necessary information, but COHO will also store it in the right place if the onboarding is completed, to save any double keying.
This will also pick up any guarantor information, and things necessary for you to carry out a reference.
3) Referencing (optional)
With all the information in hand, let the applicant know you're kicking off referencing for them and/or their guarantor, and to wait until there's an answer. This can be your internal referencing process, an external referencing process, or, in the coming few months, an industry-changing new COHO Reference.
4) Tenancy Agreement
Click a button to let us do the maths when creating a rent schedule (we'll work out any pro-rata payments for you to confirm).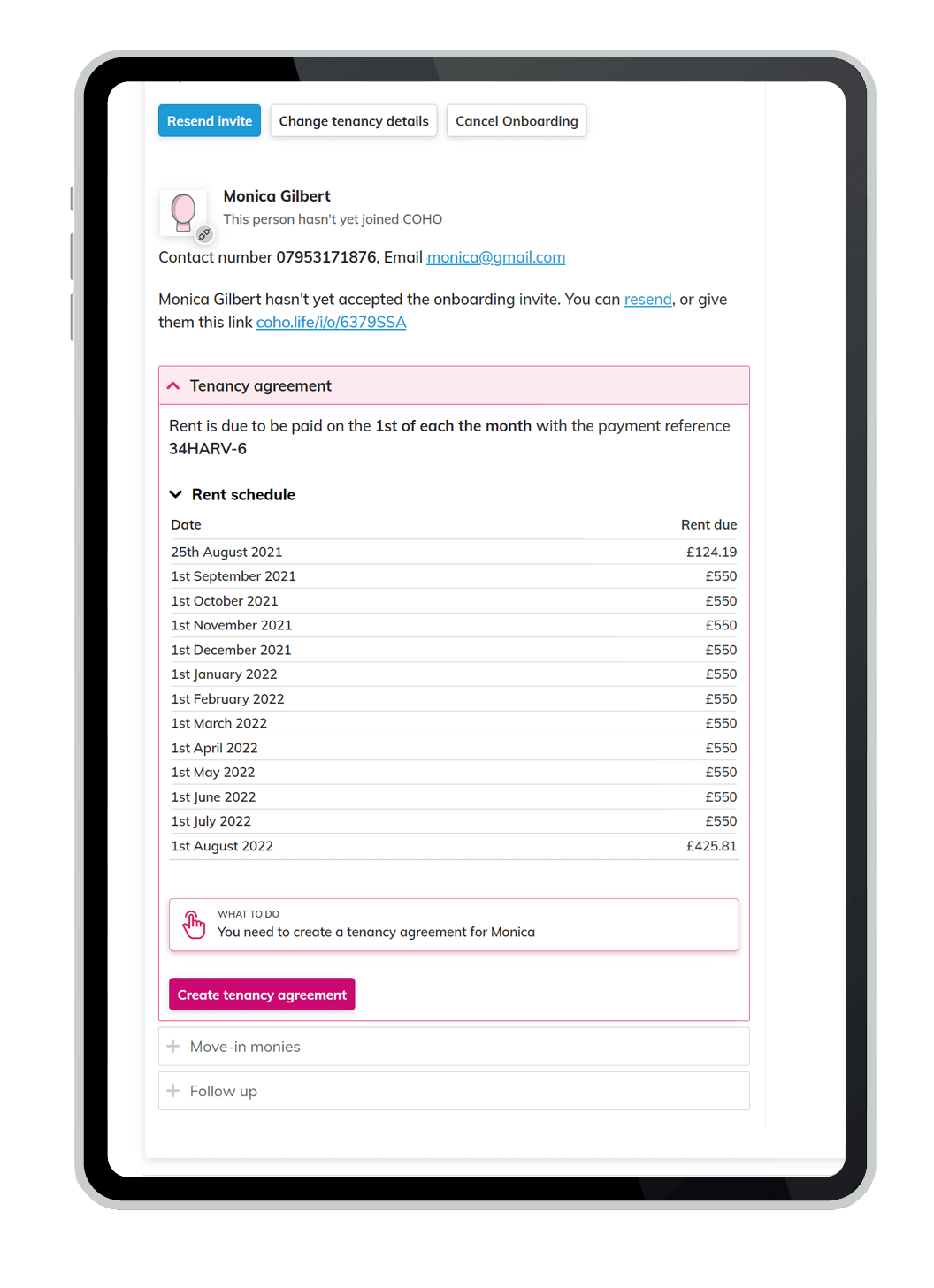 Then you can choose how you want the tenancy agreement sent and signed.
Obviously, we'd recommend our amazing new COHO eSignature, but you can ask them to print and sign, or upload an already signed agreement if handled externally.
The beauty here is that because you've already uploaded the prescribed information, we'll bring all this together and show this to the tenant at the point of agreeing the tenancy agreement - you don't even need to lift a finger.
5) Move-in Monies
COHO will help you calculate how much money to ask for. Choose whether to include the deposit, subtract the holding fee, and which months rent you want to take (if the first month works out as only a few pounds, you might want to click the next month too). The applicant will then be presented with a break down and where to pay, and asked to confirm when payment has been made.

You don't want to lose track of who is moving and when, so we'll keep them there until you've considered it done. You can set dates as to when you want to get in touch, maybe a couple of days after moving in to make sure all went all.
And with that, there's a clear, transparent, and easy to follow process of bringing in a new customer. What a great first impression.
Importantly... all communication during this process can be handled within COHO, either in a web browser or using our Android or iOS apps.
COHO eSignature
Are you tired of having to dig through your files to pull together an "envelope" of the gas safety certificate, EPC, EICR, and everything else? Tired of paying for yet another unconnected 3rd party app? Then stop. Let COHO do the heavy lifting.
Simply upload your tenancy agreement and COHO will pull in all of the required documents. If there's anything else you require, such as a list of house rules, you can add those too.
For compliance we require applicants to acknowledge the serving and receipt of all of the documents, as well as confirm their identity, and provide a signature. At the end you'll be provided with an eSignature certificate which contains the agreement, as well as "file hashes" (technical thing to show which documents were included) of everything they have received.
Once signed, there's no need to double key or upload things anywhere... it will be exactly where you expect in COHO for both you and your new customer.
And the price? There's no need to buy a load of credits up front, using COHO eSignature will cost just £1 + VAT per tenancy agreement, added to your next months bill.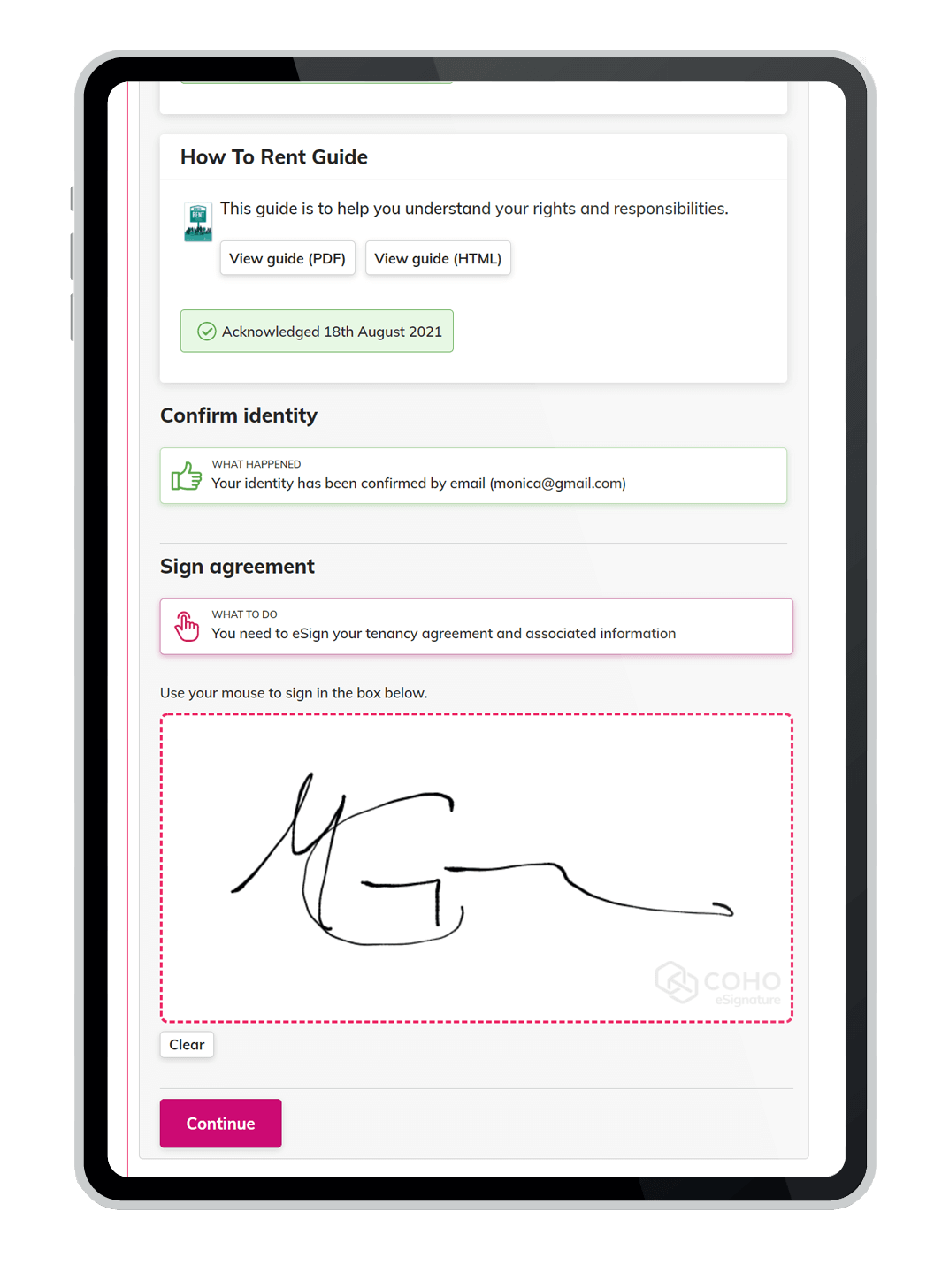 "I'm sold, that's brilliant, how do I start?"
Why thank you, [blushes]. But before you jump right in, we wanted you to be able to try it out yourself. We've updated our "Test Drive" to include all this Onboarding goodness, so jump on now and see what you think.
Though this will give you a taste, it's only when you're properly doing this that you'll realise how powerful it can be to your business.
New Feature: Property Ownership
We've recently added a way to track the ownership of your properties, and any documents relating to it. This lets you track whether it's a Rent to Rent (and what the rent is, who it goes to, and any contracts), Owned, or Managed (and any information regarding fees and owners).
New: Room Info Boxes & Tenant Info
By request of one of our loyal users, Matthew, we've expanded Info Boxes and Property Information to cover room. This will let you share room-specific information with a tenant (such as a TV manual), or privately store any information about that room.
We've also extended the private-side to cover tenants too. If you'd like to store any notes or other information specific to the tenant that doesn't fit elsewhere, you can now do that.
What's next?
There's some really, really interesting things going on behind the scenes with COHO (that's why it may have looked like I've dropped off the radar a little bit). But all I can say is it's extremely positive. There are two key things we're working on next though, and one of them is THE most demanded feature.
Financial Powerhouse (yes... Banking Integration)
Bring all of the finances relating to property, room, or even specific tenancy, with integrations to popular accounting programs and bank accounts, and effortlessly create reports such as income and expenditure, and owner statements.
Automated Rent Collection
Remove all of the effort out of rent collection and rent reconcilliation by letting COHO automate the process. Stop doing things that are routine, and start only acting when intervention is needed.
Working tirelessly to bring the PropTech innovations you all deserve, and enjoying every minute of it...